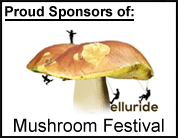 What is the Telluride Mushroom Festival?
The Telluride Mushroom Festival and the Telluride Institute are thrilled to announce the 33rd annual Telluride Mushroom Festival, to be held Saturday, August 16th through Tuesday, August 19th with pre-festival workshops on August 15th. This year, the festival will center around four tracks within the field of mycology: medicinal, mycoremediation, entheogenic, and culinary.
"This will be the biggest and most interesting Telluride Mushroom Festival in all the many years this festival has been held. It will also be one of the premier mushroom events in the world for 2014. We are bringing together many interests in the mycological community; scientific, entheogenic, foraging and culinary, all under one umbrella. The Telluride Voucher Program planned for this year's festival will be one of the more comprehensive efforts at scientifically categorizing the mushrooms of this area as well." According to Dr. John Holliday, Chief Scientific Officer of Aloha Medicinals the world's largest cultivator of medicinal mushrooms for use in supplements, cosmetics and pharmaceuticals.
For 33 years, the Telluride Mushroom Festival has celebrated the rich and diverse world of mushrooms with the mission to educate and incite a passion for all things mycological in an ever-expanding audience. The festival offers something for everyone. In the beautiful setting of the San Juan Mountains, long-time fungi enthusiasts and mushroom novices alike will enjoy activities ranging from guided forays with information on how to locate the safest edible mushrooms to lectures and workshops led by some of the world's leading mycological experts.
Events
The Telluride Mushroom Festival is extremely honored to welcome award-winning author Langdon Cook as this year's keynote speaker. Cook is a writer, instructor and lecturer on wild foods and the outdoors, and his book The Mushroom Hunters : On the Trail of an Underground America was the winner of the 2014 Pacific Northwest Book Award. His unique exploration of how mushroom foraging can revitalize our relationship with the earth as well as one another is sure to inspire the mycophile in each of us.
Featured speakers Tradd Cotter and Ron Spinosa will be leading workshops in mycoremediation (the use of fungi to assist in reversing pollution damage) and cultivation, including topics varying from how to use toilet paper and kitty litter to grow your own mushrooms to the potential of mushroom cultivation to aid in improving nutrition and reduce poverty in America. Rush University Medical Center biotechnology researcher, Dr. Ayman Daba, will discuss the use of mushrooms to reverse cancerous tumors by boosting the host's immune system.
Other presentations include "Mycopigmentation: Pick Mushrooms and Dye" with mycologist and fiber artist Alissa Allen. Mushroom identification is her primary passion, but mycopigments are her obsession. Alissa will lead participants through the process of extracting an array of vibrantly colored dyes from mushrooms that will then be used to color wool and silk. Alissa will offer 3 workshops during the Mushroom Festival which are limited to 20 participants each, so please book early to reserve your space.
This year also sees the inception of the Telluride Institute Voucher Program science tent, led by internationally renowned mycologist John Holliday and distinguished mycological author Gary Lincoff. Funded by Aloha Medicinals, the goal of the program is to include festival participants in the discovery of mushrooms that are yet undescribed or new to science. Festival attendees will be encouraged to bring their fungi to the Voucher Program science tent where DNA specimens of the mushrooms will be prepared.
Hosted by the Wilkinson Public Library on Saturday, August 16, the annual Mushroom Cook-Off street party will be fun for the whole family. Chefs from around the country will compete for the People's Choice Award, the Judges' Choice Award, and the coveted Mushroom Cap by creating delectable and inventive dishes using wild mushrooms. Festival-goers can watch the chefs in action, sample the dishes, and vote for their favorites. The Cook-Off will also feature specially "myco-brewed" mushroom-infused beer, live music, vendors, and a grand tasting.
As always, the ever popular and infamous Telluride Mushroom Festival annual Mushroom Parade promises to be a lively and frivolous celebration of all things fungi. Led by the "Great Wizard" Art Goodtimes, mushroom devotees will parade down Main Street sporting elaborate mushroom-themed costumes. Highlights of the parade include a community drum circle as well as a fiercely competitive costume contest.
This year's Mushroom Festival is expected to sell out, so please reserve your festival pass soon. As always, children under age 12 are FREE and a 15 percent discount on lodging is available through Telluride Alpine Lodging. Full event passes are available attelluridemushroomfest.org or by mail at MUSHROOM 2014 c/o Telluride Institute, P.O. Box 1770, Telluride CO, 81435. For festival information, please visit us on the web, or email [email protected] with any questions.
Telluride Mushroom Festival
August 16 – 19, 2014
Pre-Conference Workshops on Friday, August 15th: Tickets Here